Orange Chicken is a favorite at take-out Chinese restaurants no matter where you live. There's just something magical about those crispy little morsels of battered chicken bathed in a cloyingly sweet orange glaze. But if you happen to be gluten-intolerant or you're on a GF diet, you've probably written this childhood favorite off as a loss. You don't have to. This is a version anyone can enjoy. By request, I bring you a completely gluten free orange chicken recipe that will blow your socks off, I guarantee it.
Unlike many other recipes presented here at Uncle Jerry's Kitchen, this one has actually been tested multiple times and in many different ways. It wasn't enough to get a good orange chicken recipe. This had to be a dead-on recreation of the orange chicken you get at your favorite hole in the wall Chinese restaurant.
Let me explain:
Our dear friend and romance author Cynnara Tregarth (Not necessarily safe for work, kiddies! Cynnara, like my wife, writes erotic romance.) requested this recipe after being diagnosed with celiac disease. She was practically in tears over the loss of her favorite takeout food, so I took my time to develop this as closely as I could to restaurant-style, rather than to my personal preferences.
A peek into the process:
First of all, let me say that I'm fully aware that orange chicken is a Chinese American dish. It caters towards the our love of deep fried, breaded chicken and sweet sauces, as well as to the restrictions of a tiny restaurant kitchen. That doesn't make it a bad thing, but it does influence the development process.
When I first approached this recipe, I went about it using my knowledge of Japanese cooking and Chinese stir-fry that I've learned over the years. Going gluten free in either one of these cuisines is simple, as flour is rarely used, but this proved difficult in this case, since most Chinese restaurants in America either use flour to bread their chicken or buy it frozen and already floured.
I tried breading the chicken with corn starch. It was light, crispy and packed with flavor, but it just didn't have the right texture or crunch. It also didn't hold up well to the orange glaze. The same held true of potato starch and rice flour. All were good, but they just weren't right. Also, the chicken tended to be a bit dry, even when using thighs, so there was definitely some work to be done.
So I pulled a trick every Southern boy knows when getting ready to fry chicken. I soaked it in buttermilk and then got back to testing breading.
In the end, we tried some off the shelf gluten free multi-purpose flour… The result was amazing.
This, ladies and gents, is the only way I'll ever fry chicken again. Seriously.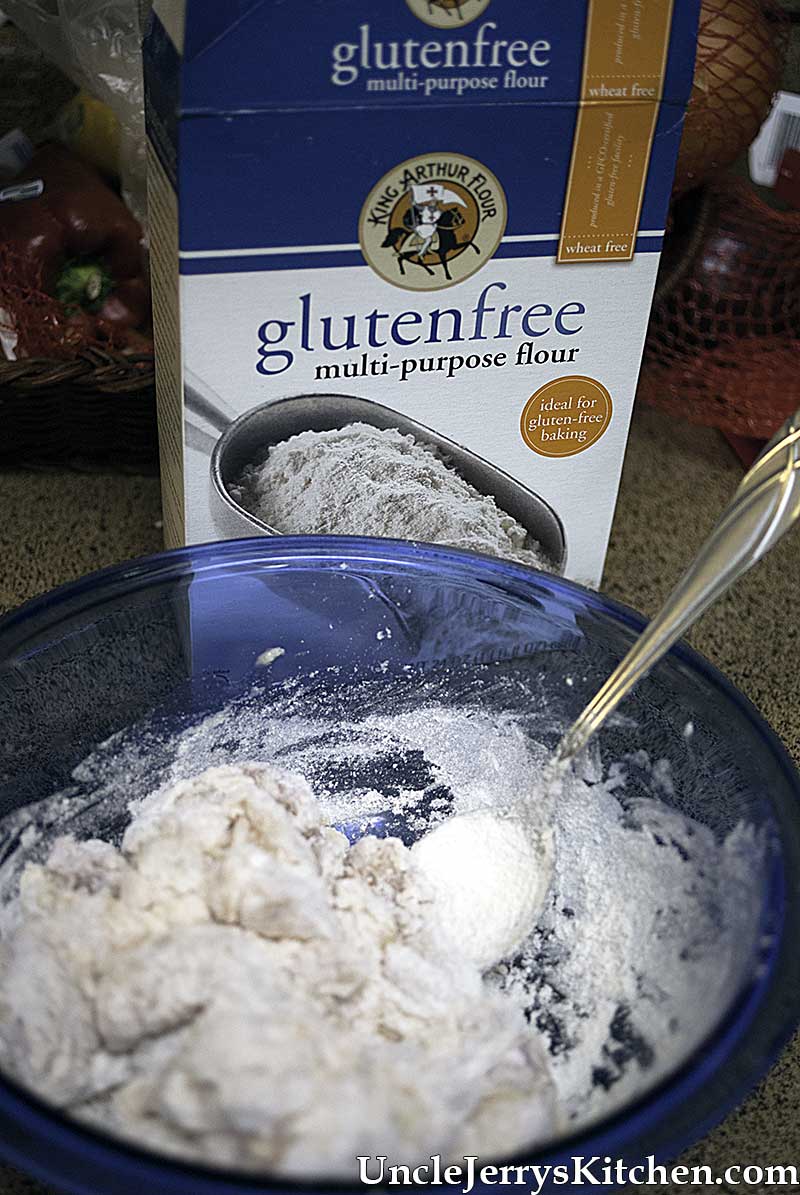 I'm not sure what it is about this stuff, but I have never in my life had lighter, crispier, airier fried chicken. Gluten free flour doesn't soak up a bit of oil when frying. Since we're not GF in our home, I don't know if it's the particular brand used or if it's a characteristic of the blend, but I'm going to find out. (And if any of my GF friends know the answer, please chime in!)
So, after a quick dip in 350 degree oil, we end up with perfectly crisp, crazily juicy little nibbles of chicken. All that's missing is the orange sauce.
If you love orange chicken then you know that the sauce is every bit as much a part of the show as the chicken itself. It's not subtle. It's actually a full-blown assault on the palate. And I didn't have a recipe for it. With a family friend counting on me, I got to work.
Like any recipe developer that's outside his or her comfort zone, I turned to the people I know and trust for inspiration. In this case it was Japanese food expert and my good friend Marc Matsumoto of No Recipes, and his recipe for the Best Orange Chicken.
Why Marc? Because we share common interests and philosophies in cooking. Also, because he's way more talented than I am. But in the case of this sauce, even Marc didn't have quite what I was looking for.
Don't get me wrong here. His recipe for orange chicken is one hell of an elegant dish. It's just that it's a little too subtle. Marc is a great cook, one of the best I know, but the thing about Marc is that his food emphasizes nuances in flavor. Even though the base was right, it just didn't have that "punch to the throat" orange/sugar blast that I was looking for. His sauce inspired mine, and I thank him for that. In fact, I owe him a few drinks the nest time he's in the States.
The key to orange sauce that rivals any strip-mall Chinese restaurant sauce (without going to a packet) is reduction. You have to concentrate the orange flavors from the juice and the marmalade and then bring up the sugar levels. yes, it takes time, but it's worth it.
In the end, you get a thick, syrupy, orange sauce that will happily coat that lovely chicken in something that resembles orange gelatin. And yes, that's a good thing in this case.
Once all is said and done, you're going to end up with meal you can truly be proud of. A gluten free orange chicken recipe that everyone in your family will adore. (Assuming of course that they like orange chicken.)
Yield: 4 servings
Gluten Free Orange Chicken Recipe
Prep Time: 30 minutes

Cook Time: 15 minutes

Total Time: 45 minutes

If you love the orange chicken you get at your local Chinese place, you'll love this make at home version. Best of all, it's completely gluten free, so you can serve it to almost anyone!
Ingredients
For the Chicken:
1 pound boneless, skinless chicken thighs
1 cup buttermilk
2/3 cup gluten free multi-purpose flour
Vegetable or peanut oil, for frying
For the orange Sauce:
1 cup orange juice + 2 Tablespoons, divided
1 Tablespoon sugar
1/3 cup orange marmalade
1 Tablespoon corn starch or potato starch
1 green onion (greens only) chopped fine (optional)
Instructions
For the Chicken:
Cut chicken into 1/2-inch wide strips. (Remember, you need these to be bite-sized and ready for chopsticks)
Place chicken in a large bowl or zip-top bag. pour buttermilk over and mix well. let marinade for at least 20 minutes and up to 3 hours.
Heat oil in a fryer or large saucepan until temperature reaches 350 degrees.
Drain chicken and coat with multi-purpose flour. Fry chicken in heated oil in batches, approximately 2 minutes per batch or until golden. Place on paper-towel lined plate to drain.
(If desired, chicken can be held in a warm oven until glaze is ready.)
For the orange sauce:
Pour orange juice into a small saucepan. Bring to a bare simmer and reduce heat to medium-low. Allow to simmer until the juice is reduced to about 2/3 cup, stirring often.
Whisk in sugar and mirin, stirring until sugar is completely dissolved. Stir in marmaade and mix well to combine.
Mix cornstarch with 2 Tablespoons orange juice and whisk in to the sauce. Allow to simmer 1 minute, or until desired consistency is achieved.
Place chicken and green onions (if desired) in a large bowl. Pour sauce over and toss to coat.
Serve hot with fried rice or plain rice.
Share and enjoy!
Notes
If you want a little heat with your sweet, add a splash of hot sauce or 1/8 teaspoon red pepper flakes to the orange juice while simmering.

Looking for a little less sweetness? either leave out the sugar or the mirin. It'll still be great.

If you want to use the sauce for pork chops or some other dish, skip the sugar and don't reduce the orange juice. this will make a thinner, less sweet sauce that pairs well with lean meats without overpowering them.
Nutrition Information:
Yield:
4
Serving Size:
1
Amount Per Serving: Calories: 498Total Fat: 13gSaturated Fat: 4gTrans Fat: 0gUnsaturated Fat: 9gCholesterol: 141mgSodium: 346mgCarbohydrates: 62gFiber: 2gSugar: 30gProtein: 34g


And there you have it, my friends. A nearly perfect gluten free Chinese orange chicken recipe. Developed with love for a one of the best friends my family has ever known. I hope that I have lived up to her expectations.
I also hereby formally apologize to my lovely and talented wife, the amazing author Dawn Montgomery (Again guys, not necessarily safe for work) for having her sample the many failures that led us here.
What I would have done differently had I thought of it at the time:
Not a thing. this is every bit as over the top as any orange chicken recipe you've ever had. What it lacks in subtlety it more than makes up for in sheer flavor and sweetness. you'll definitely want rice on the side, and perhaps a little soy sauce to cut the sweet.
If you like some heat with your sweet, feel free to add some red pepper flakes or hot sauce to the glaze. The heat balances the sugar well, but was beyond the scope of this recipe.
More Orange Chicken Recipes from around the web: