From the archives. This is one of the best salads you can imagine on a hot summer day. Enjoy!
I may not have been born Texan, but Texas is where I call home these days and proudly so at that. Texas has been good to both my wife and I from the day we set foot here and even though we're sure to leave her eventually, for now I'm Texan, and a piece of my heart will always be in the Lone Star State. A part of me will always be Texan. The place is just like that, it can't help itself.
Having said that, you might be able to surmise how tickled I was to get a message from the Texas Beef Council asking me to help spread the word about Texas Beef. We really don't need to go into all the yelling and carrying on that happened on this end of that conversation, so let's just say I was happy to accept shall we? The nice folks over at Texas Beef sent me a few recipes and a $25.00 prepaid card to buy whatever ingredients I'd need for the party, which was nice of them since I would have done it on my own dime anyway.
After looking over our choices, my wife and I decided on the Gazpacho Steak Salad. It looked pretty refreshing for days still well into the 90's with an average 45% humidity and it sounded a bit different from the dishes we'd been having over the past few weeks, which would make for an interesting change of pace, so I set off for the store to get what I needed and got to work.
Of course I couldn't follow the directions 100%, could I? That's not in my nature unless bread making is involved. (which is why I leave that up to my wife when possible). Not only did I forget I'd used up one of the ingredients, but I managed to misread the recipe in the process of making the dish, though neither change was that large a departure from the original.
My thoughts? Well, you'll have to read through my version of the recipe to get those. I wouldn't want to give everything away at the very beginning of the story.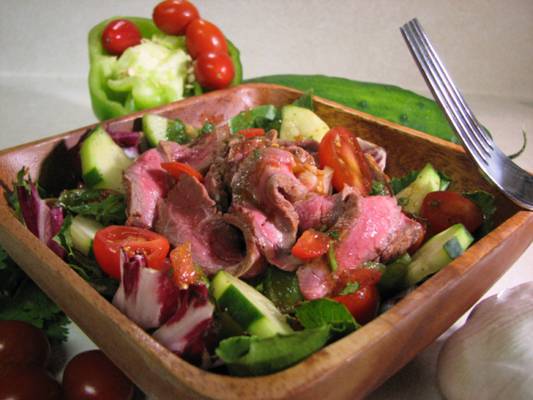 Yield: 4 servings
Gazpacho Steak Salad Recipe
Prep Time: 10 minutes

Cook Time: 10 minutes

Total Time: 20 minutes
Ingredients
1 lb. beef shoulder steak or top round steak, cut 1-inch thick
1 can (5 1/2 oz.) spicy 100% vegetable juice
1 package (10 oz.) field greens
1 cup grape tomatoes, halved
2 stalks celery, cut in half lengthwise, then into thin slices
1 cup cucumber, cut in half lengthwise, then into thin slices
1 cup chopped green bell pepper
Salt and pepper to taste
Gazpacho Dressing:
1 can (5 1/2 oz.) 100% vegetable juice
1/2 cup chopped tomato
1/4 cup finely chopped green bell pepper
1 Tbsp. red wine vinegar
1 Tbsp. chopped cilantro
2 tsp. olive oil
4 cloves garlic, minced
Instructions
Place steak and 1 can spicy vegetable juice in food-safe plastic bag; turn steak to coat. Close bag securely and marinate in refrigerator 6 hours to overnight.
Combine dressing ingredients; refrigerate. Combine lettuce, tomatoes, cucumber and 1 cup green bell pepper; refrigerate.
Remove steak from marinade; discard marinade. Place steak on grill over medium, ash-covered coals. Grill 10 to 15 minutes for medium rare to medium doneness, turning occasionally. Carve steak across the grain into thin slices. Season with salt and pepper.
Add steak to salad mixture. Drizzle with dressing.
Serve and enjoy!
Notes
(Based on the original recipe from the Texas Beef Council, which can be found here)


What I would have done differently had I thought of it at the time:
Honestly, I think this salad has the potential to be amazing. I forgot that we'd used up the tortilla chips they called for in the original recipe, but to be honest, I probably wouldn't have used them anyway. I also read celery when making it, but it was not originally called for, though I found it a nice addition.
For me, the dressing was just a bit heavy. I'm not sure if I got the ratio wrong, or if it's because of the addition of vegetable juice. Whatever the reason, I'm going to give this another shot with some lighter greens (say a romaine and iceberg combination) and some brighter flavors to see what happens.
All-in-all, if you're looking for an excuse to grill before the weather in your neck of the woods turns bad, this is one heck of a way to go.
Links to other recipes like this: