By now a lot of you know that I have an interest in using chips in my cooking. (O.K. it's more like an obsession.) I make Frito Pie, Frito Pie Dogs, Frito Pie Burgers, and drinks made with Doritos. This time around I decided that I wanted an insanely crispy oven fried chicken recipe with a twist. The answer? Doritos crusted chicken.
You are seriously going to love this one, guys. The chicken is moist, tender, and as juicy as you could ever want. The crust is crisp, with a satisfying snap when you bite it, and just the right amount of texture.
In all fairness, the recipe should be called Cool Ranch Doritos Crusted Chicken Leg Quarters because that's what I used for this recipe, but it really doesn't matter what flavor of seasoned corn chips you use here. If you want other flavors, just switch out to a different bag of chips. For more heat, go with Jacked. Want a more cheesy flavor, use regular Doritos. That's entirely up to you.
I used chicken leg quarters here because I had chicken leg quarters, and we prefer our chicken skin-on. You can make this recipe with any chicken you happen to have or the kind you prefer. Just note that if you're using smaller pieces of chicken like chicken tenders you won't need to cook it as long, so keep an eye on the temperature. Other than that, everything stays the same. And if you're wondering about that potato… Well, you'll have to read through to the end, because it's pretty epic.
Let's get into it, shall we?
First, smash up some Doritos. The amount you need will vary depending on how much chicken you're planning on cooking. It's best to do this in a large Zip-top or paper bag.
My preferred tortilla chip decimation method is a rolling pin. Both because it doesn't bother my neighbors like smashing the chips with a mallet would, and because I can just crush them in the same bag I'm going to use to "bread" the chicken.
O.K. So coat the chicken in flour. We do this so that the egg (in the next step) will stick to it. I use the same bag I stored the chicken in, but you can use a fresh bag if your chicken hasn't already been stored. You may have to shake things around and finesse this a bit. I'm also using gluten-free flour, but you can use anything sticky, like corn starch, or rice flour, or even normal all-purpose flour, if you aren't worried about gluten. Shake off any excess flour when you're done.
For us, the most difficult part was coating the chicken in eggs. Since we're using leg quarters, we needed something wide. I picked an 8 x 8 baking pan for this one. Also since I was just cooking 2 leg quarters (they were huge, as you can see), I only needed one egg and just a splash of water. Just keep flipping and pressing the chicken around in the egg until it's completely coated.
It wouldn't be Doritos crusted chicken if we left out the Doritos, now would it? Drop your chicken into the bag of crushed chips and give it a good shake, then press to get the chips to stick. It's Okay if not every single bit of the chicken is covered, but try to coat as much of it as you can. (I couldn't get shots of this process, because my hands were covered in raw chicken and eggs, but I'm sure you get the idea.)
Drop your chicken onto a baking sheet and plop it in the oven for about an hour. (Less if you're using smaller pieces. Remember that 160-degree internal temp!)
Once the hour is up, pull your chicken out of the oven and let it rest for a few minutes while you get your sides ready. I went with a loaded baked potato that was also topped with some crushed Doritos. Because… Well. Just because! Toss that chicken on a plate and go to town!
What are you waiting for? You know you want to make this, so get going!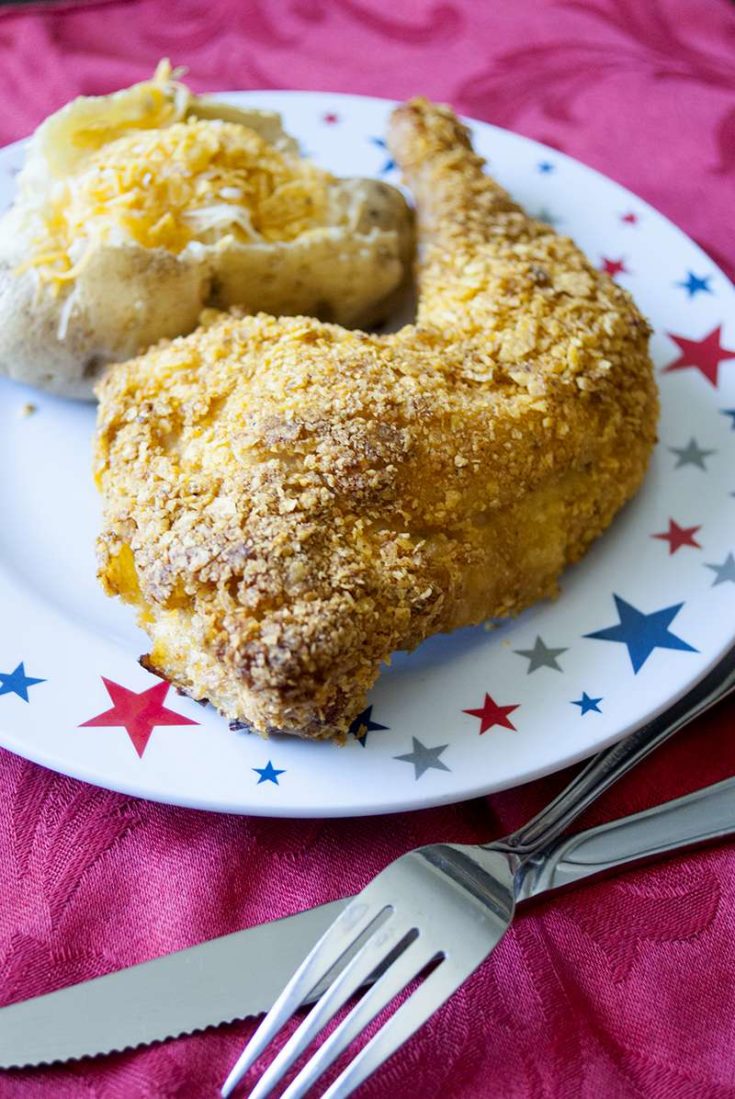 Yield:

6 servings
Doritos Crusted Chicken Recipe, Gluten Free & Delicious
Total Time:
1 hour
10 minutes
Moist, succulent, and tender baked chicken with an even crispier crust than fried. Doritos crusted chicken is sure to become one of your family's favorite recipes. It's even Gluten Free, if you choose the right flavor of Doritos.
Ingredients
4 pounds chicken pieces
3 eggs, beaten
3 Tablespoons water
Salt and pepper to taste
3/4 cups gluten free all-purpose flour (See notes for substitutions)
1/2 bag Doritos (any flavor) crushed
Instructions
Heat oven to 350 degrees F.
Place flour and crushed Doritos in large (1 gallon) zip top or heavy paper bags.
Mix eggs, water, salt, and pepper together in a large shallow dish or bowl.
In batches, place chicken into the bag of flour and shake well to coat. Remove chicken from flour, shaking lightly to remove any excess.
Dip chicken pieces in egg mixture one-at-a-time, turning to coat completely. Then drop into the bag of crushed chips and shake to coat evenly. Transfer to a baking sheet and continue until all chicken is coated. If using a whole, cut up chicken, arrange legs and thighs on the outside of the baking sheet and breast and wing pieces in the center.
Discard remaining flour, eggs and Doritos (only the ones used in the recipe, of course).
Bake chicken on the center rack of the oven until the internal temperature reaches 160 degrees F. (About one hour.) Remove from heat and allow to rest for 5 minutes before serving.
Notes
You may substitute the gluten free all-purpose flour with other flours or starches if you prefer. Regular flour, corn starch, rice starch, or potato starch will work equally well. (Avoid Whole wheat flour though, as it won't get sticky enough)

Important! If you're aiming for Gluten Free. Almost all Doritos chips will work, but check the labels, as there are one or two varieties that do contain small amounts of gluten.
Nutrition Information:
Yield:
6
Serving Size:
1
Amount Per Serving:
Calories:

681
Total Fat:

30g
Saturated Fat:

9g
Trans Fat:

0g
Unsaturated Fat:

19g
Cholesterol:

446mg
Sodium:

358mg
Carbohydrates:

12g
Fiber:

0g
Sugar:

0g
Protein:

84g
What I would have done differently
Oh, the possibilities! If you're looking for a simple and versatile recipe, Doritos crusted chicken is it. Just change out the flavor of the chips to get the flavor you want. But be on the safe side and make sure that you have more Doritos handy. It takes a lot more crushed chips than you think to fully coat the chicken.
Other great Doritos crusted chicken recipes:
What about You?
Do you have a favorite recipe that uses snack chips in a creative way? If so, let us know, either in the comments or on social media. And if you give this recipe a try, please drop a comment below and share your experiences with other readers so they know what you thought, or if you've run into any issues that we can address. (I'll help you out, promise! That's what I'm here for.)