For my family cornbread was a staple food. It was served with beans and potatoes, with fish, for holidays, at parties and often just as a snack. It was always served with a bowl of chili. There was no question that chili and cornbread were meant to go together. If anyone had suggested to me as a kid that you could just bake the chili right in to the cornbread, I would have called them crazy.
Yet here I am today, telling all of you that you can do just that. Not only am I telling you that you can do it. I'm telling you that you should do it, and you should do it as soon as you get to the recipe below. It might just be a life altering experience for you.
I don't say that lightly. The dish pictured above and below these words has changed my perception of a dish I've known and loved all my life. It has opened new possibilities to me in very much the same way that Martin Yan, Julia Child, Emeril Lagasse or Alton Brown ever did. It twisted my "normal" on its ear… And that, my friends is a very good thing.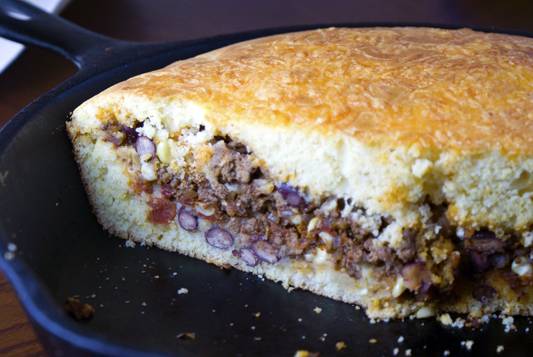 It also opened my kids up to something new. I'm not going to lie when I say that there was a fair amount of resistance to trying this dish. At one point there were cries of "I'd rather go hungry." Thankfully it never came to that. Once they took a bite, it was all over. They loved it, and I think your family will too.
Have you ever had a dish that changed the way you thought about an ingredient? If so, did it change for the better? I'd love o hear about it, so drop a comment below.
Now get your oven ready. It's time for some vittles!

Yield: 8 servings
Chili Stuffed Cornbread
Prep Time: 20 minutes

Cook Time: 1 hour

Total Time: 1 hour 20 minutes
Ingredients
For the Chili:
1 pound ground beef
1 medium onion, chopped
3/4 cup chicken broth
1 packet taco seasoning
1 - 10 ounce can RO*TEL® Original diced tomatoes
1/2 tsp cumin
1/2 tsp red chili powder
1/4 tsp dried oregano
1/8 tsp Adobo Seasoning
1/8 tsp paprika
The kernels of 2 ears of corn (approximately 3/4 cup whole corn kernels)
1 - 15 ounce can dark red kidney beans, drained and rinsed
Salt and pepper to taste
For the Cornbread:
1-1/4 cups flour
3/4 cup yellow corn meal
1/4 cup sugar
2 tsp baking powder
1/2 tsp salt
1 cup milk
1/4 cup vegetable oil
1 egg, beaten
1/2 cup grated cheddar cheese
Instructions
Cook ground beef and onions together in a large skillet over medium heat until beef is well browned. Drain and return to skillet. Add chicken broth, taco seasoning, RO*TEL tomatoes, cumin, chili powder, oregano, Adobo and paprika. Simmer until almost dry, stirring occasionally.
Add corn and kidney beans. Check for seasoning and add salt and pepper as necessary. Remove from heat and set aside.
Grease a large cast iron skillet or a large baking dish and place in cool oven. Preheat oven (with skillet inside) to 400 degrees.
In a large bowl, add flour, corn meal, sugar, baking powder and salt. Whisk to combine. Add milk, oil and egg. Stir until mixture is just moistened.
Carefully add 1/2 of the cornbread batter to the bottom of the skillet or baking dish. Spoon Chili into the batter from the center to about 1/2-inch from the edges. Cover with remaining cornbread batter. Sprinkle the top of the cornbread with the cheese.
Bake at 400 degrees for 25-30 minutes, or until a toothpick inserted at the thickest oint of the cornbread comes out clean and the cornbread is a light golden color.
Allow to cool for 15 minutes before serving.
Share and enjoy!
Nutrition Information:
Yield:
8
Serving Size:
1
Amount Per Serving: Calories: 671Total Fat: 22gSaturated Fat: 6gTrans Fat: 1gUnsaturated Fat: 13gCholesterol: 84mgSodium: 963mgCarbohydrates: 85gFiber: 7gSugar: 11gProtein: 32g


What I would have done differently had I thought of it at the time:
I made the batch pictured with a doubled recipe for cornbread. It was, needless to say, way too much cornbread! The recipe above reflects my mistake and should yield something that will feed a family easily, with leftovers, but not be so much food that any has to be discarded.
Links to other recipes like this: