It's summertime folks. Time for simple, warm-weather friendly food that works well indoors or out. These tacos are simple, mostly make-ahead, which makes them perfect for outdoor get-togethers. Did I mention they were good? I mean really, really good. Like crazy delicious. Like I want them again right now!
This recipe is actually three separate recipes all rolled up into one phenomenal dish. The salsa is super tart and tangy, but has insanely sweet overtones from the corn and an earthiness only black beans and cilantro can bring to a dish. The chicken is tangy, fiery and sweet all at the same time and the creamy garlic mustard mixed with the sour cream as a finishing touch marries all the flavors together perfectly. If my family is any indication, this might just be the perfect summer dish.
I mentioned it was good, right?
This is our second entry in the Saucy Mama Sliced competition and was cooked completely by the seat of my pants. We're proud to have made it to round two, and we put our heart and soul into this dish with the hopes of making round three, too. I had originally planned to make something completely different but when I took a good look at what I had to work with I realized that the Hatch Chili Mustard from Saucy Mama was WAY too potent for that dish. After looking around the kitchen, I had a flashback to the Chicken Diablé my mom made when I was little.
If you're not familiar with Chicken Diablé, it's chicken glazed with a mixture of brown sugar, curry powder and mustard. (Which is probably why I still use curry powder on my roast turkey to this day. It's a fabulous combination.) It's a simple recipe, but one that still takes me back to those happy days of my youth and memorable dinners around the table with my family. It's also wonderful cold and pairs well with beans (the secret ingredient for this leg of the competition). The idea for tacos hit me over the head like a brick, and we were off!
Before I hand you the recipe as I made it, I'm going to give a warning: If you're serving more than two people or have a teenager in the house, make more of the chicken than is listed. Make much more. My teenager ate up all of his and all but half of one of my tacos. My picky eater polished his taco off in seconds, (sans salsa, which is pretty acceptable for a six year-old. At least he tried it!) So double the recipe for the chicken and grab extra tortillas. It'll be well worth it.
I'll walk you step-by-step through the recipe at the end of the post, but for you who are already convinced that you just NEED to make this now, I'll give you the recipe first, so jump through to see the guide.
Enjoy!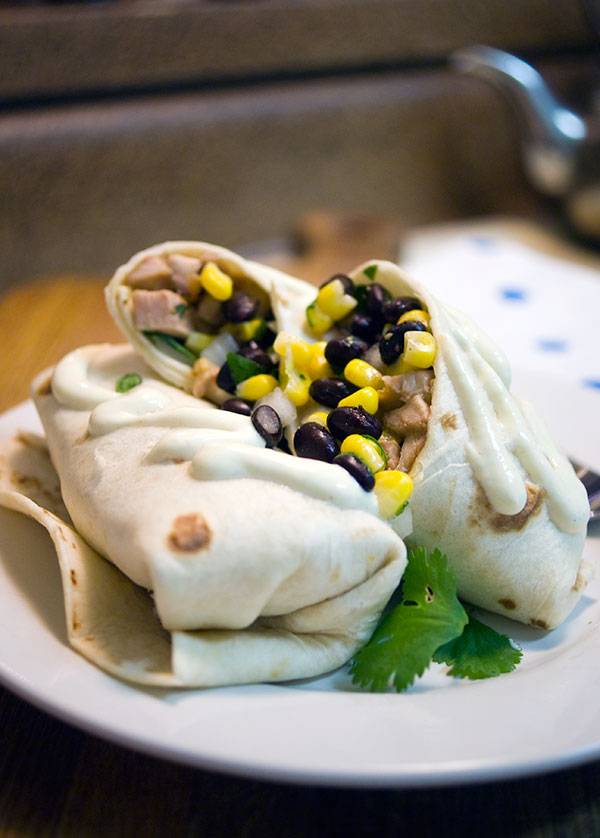 Yield: 8 tacos
Chicken Soft Tacos with Black Bean and Corn Salsa
Prep Time: 10 minutes

Cook Time: 35 minutes

Total Time: 45 minutes
Ingredients
For the Black Bean and Corn Salsa:
1 medium onion, chopped finely
1 (14.5 ounce) can black beans, drained and rinsed
1 1/2 cups whole sweet corn kernels
1/2 bunch (A good handful) cilantro, chopped
The juice of 2 lemons (or 4 limes, for a milder salsa)
1/2 teaspoon powdered cumin
Salt and Pepper to taste
For the Chicken:
4 boneless-skinless chicken thighs
4 Tablespoons dark brown sugar
3 Tablespoons Saucy Mama Hatch Chile Mustard
For the Tangy-Sweet Sour Cream:
3 heaping Tablespoons sour cream
1 Tablespoon Saucy Mama Creamy Garlic Mustard
To Put It All Together:
8 Soft Taco sized (10-inch) flour tortillas, warmed
Instructions
For the Salsa:
Place chopped onion in a medium bowl. Rinse and drain the black beans and corn. Add beans and corn to the bowl. Chop cilantro and add to bowl. Pour over the juice of two lemons (or 4 limes for a milder salsa) and add salt, pepper and cumin to taste. Stir well to combine, cover and refrigerate for at least 30 minutes.
For the Chicken:
Mix Saucy Mama hatch Chili Mustard and brown sugar in a small bowl.
Heat oven to 350 degrees. Arrange chicken thighs on a baking sheet or on a rack placed on a baking sheet. Brush liberally with brown sugar and mustard mixture. Bake for 30 to 35 minutes or until just cooked through.
Rest, tented loosely in foil for 15 minutes before slicing in strips.
For the Tangy-Sweet Sour Cream
Add sour cream and Saucy Mama Creamy Garlic mustard to a zip-top bag. seal the top and mash bag until everything is combined. Refrigerate until serving.
Finishing it all up:
Wrap tortillas in foil and place in the oven while chicken is resting. Remove tortillas from oven. place 1/8 of the chicken in the center of each tortilla. Spoon over 3 tablespoons of the salsa.
Snip 1 corner of the zip-top bag containing the sour cream and squeeze a bit over the salsa. Roll tortilla in your preferred method. (I did full wraps, but if using smaller tortillas, feel free to just fold it over fajita style.) Garnish with a little extra cilantro and serve.
Share and enjoy!
Nutrition Information:
Yield:
8
Serving Size:
1
Amount Per Serving: Calories: 438Total Fat: 16gSaturated Fat: 6gTrans Fat: 0gUnsaturated Fat: 9gCholesterol: 97mgSodium: 773mgCarbohydrates: 48gFiber: 7gSugar: 13gProtein: 27g


What I would have done differently had I thought of it at the time:
I would have made a lot more chicken! My teenage son loved these so much that dear old dad was left with just half of one taco with chicken in it. (Which was totally OK, as I had four tacos with just the salsa and sour cream, and they were fabulous, too!
And now for the promised Step-By-Step!
Finely chop a medium onion and toss it in a bowl.
Rinse and drain your black beans and corn, and then toss them on top of the onion.
Grab a half-bunch of cilantro and chop that up, tossing it in the bowl with everything else.
Grab two lemons (or 4 large limes) and get ready to juice them using your preferred method.
My preferred method is to just cut 'em in half and squeeze the bejeezus out of the suckers in my sausage-like hands until there's nothing left of 'em. I do this over a mesh strainer so I don't have to worry about seeds or pulp, like so:
Add some salt, pepper and a little cumin. Stir it all up. You'll end up with this, which could be a dinner in itself (and probably will be in the future). Gorgeous, isn't it?
But since this is a Saucy Mama mustard competition, and because we thought that hatch chili and chicken sounded like an awesome combo, we move on to the chicken portion of the dish. Mix together some Saucy Mama Hatch Chili Mustard and some brown sugar. Lay out your chicken and plop a big 'ol dollop of the mustard mixture on each piece, then brush to coat well.
Toss the chicken in the oven for about 35 minutes and while it's cooking, finish off the rest.
Start by putting a little Saucy Mama Creamy Garlic Mustard with some sour cream in a zip-top bag.
Seal the bag and squish it around until it's all mixed together, like this: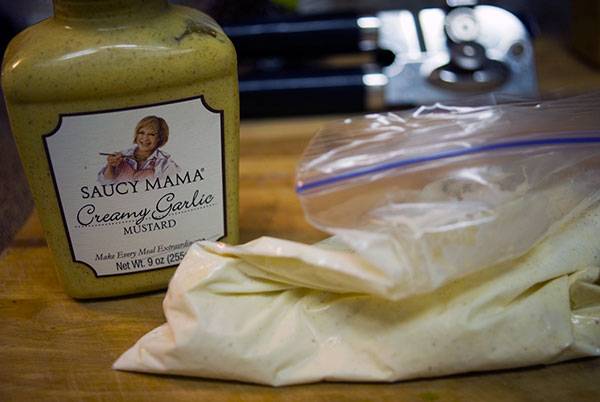 Toss that in the fridge with the salsa. Then take your tortillas and wrap them in foil.
Wait for the chicken to get done. It turns a gorgeous yellow color from all that mustard.
Rest the chicken under some foil and toss the tortillas in the oven for 10 to 15 minutes. Get 'em all warm, then whip 'em out and put together your tacos. Make sure to remember the garlicky-sweet sour cream! Wrap 'em however you want, but don't be too picky about it, since they won't last long!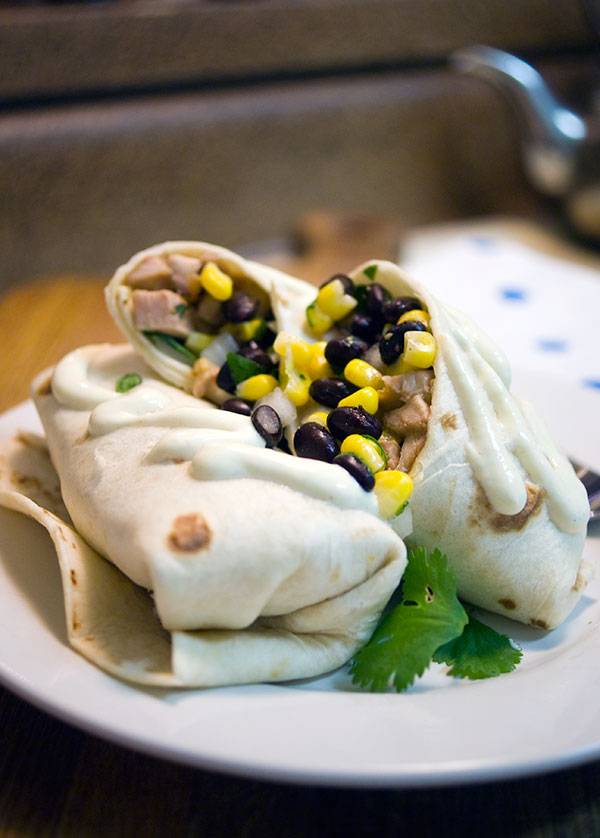 And there you have it folks. My second entry in the Saucy Mama Mustard Sliced Challenge! Be sure to let us know what you think in the comments, and stop by the Saucy Mama Blog to see if we make it to the next round.
But first, make these. Really. They're beyond good, and perfect for summer.