This shop has been compensated by Collective Bias, Inc. and its advertiser, Mars, Incorporated. All opinions are mine alone. #BensBeginners #UncleBensPromo #CollectiveBias (Note, this recipe for Cheesy Rice with Smoked Sausage & Broccoli was created by our 10-year old son.)
Cooking for picky eaters can be a challenge. Especially when those picky eaters also happen to have learning disorders. In our case, that disorder is autism.
If you're new to Uncle Jerry's Kitchen, you might not know that our son is autistic. Most people never realize it. Luckily, he's very well adapted and speaks quite well. Also, he's a genius.
But when it comes to trying new foods, we run into issues. Sometimes serious issues, like meltdowns.
So when Uncle Ben's® approached me with an opportunity to get the kiddo involved in cooking, I jumped on the chance. It's part of their Ben's Beginners program, and I couldn't be happier to help.
The first step was to let the munchkin know that we had to do a recipe, and it used rice. This is a plus for us, as rice is probably his favorite food. Of course, that meant we had to be able to SHOW him what we were working with.
So off to Walmart for a trip down the rice aisle. There are a lot of choices, but we stuck to things we thought our son would be happy with.
We figured he'd opt for the Creamy Four Cheese Flavor, but he's known to surprise us, so we grabbed some long grain options as well.
So I approached my rice-loving child with the options. He jumped at the Ready Rice® Four Cheese flavor, and stated definitively that he wanted it with broccoli and some of the "special sausage."
(OK, so the sausage isn't really special, but he thinks it is, so we go with it.)
Since this is a kid-friendly meal that I wanted him to help cook, we kept things simple. Just the Uncle Ben's® Ready Rice, frozen fajita veggies (also called pepper stir fry mix), smoked sausage, and some broccoli, which we always have on hand.
These are all foods he's used to. So we avoid the chance of a complete refusal to eat. And prep is crazy easy. Just cut up the sausage and portion the rest. You don't even have to thaw anything.
(No, I didn't let the kiddo loose with the chef's knife. That would probably be a bad thing.)
Once everything is portioned out, we're ready to go. Just a little bit of oil in a hot pan, and in go the peppers and onions. Not too many, because I don't want him picking them out.
Then in goes the broccoli with a little bit of water to help it cook quickly.
When that's about ready, pop in the sausage and stir until it's heated through.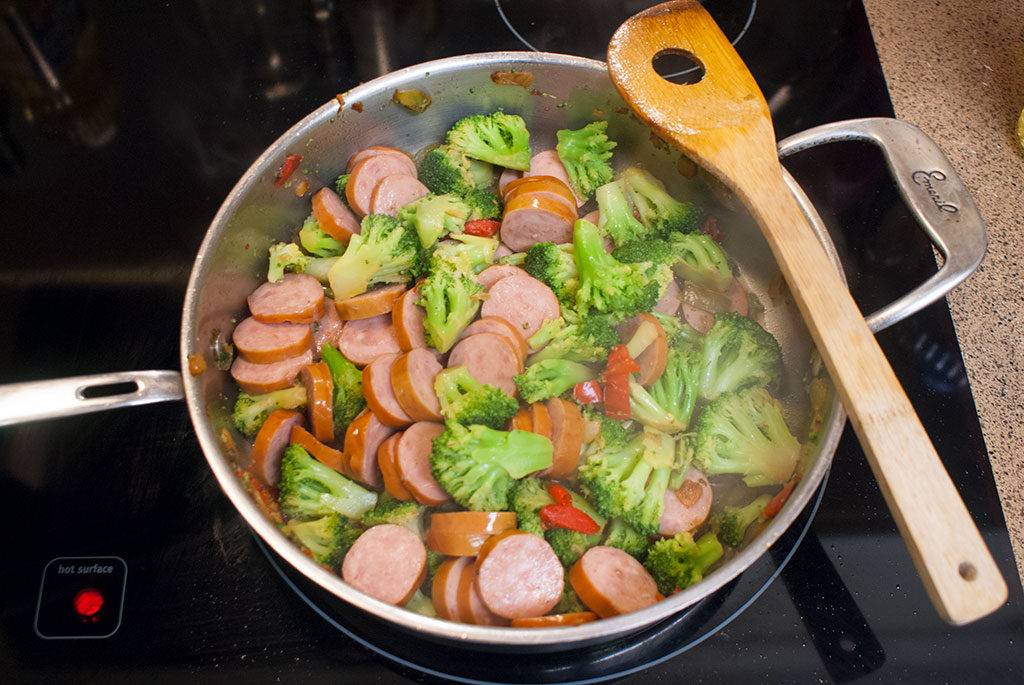 By now, Lil' B. was getting a bit impatient. Especially since dad had to take pictures of all this happening.
He was pretty patient overall, I think. Though some of the commentary was pretty funny. And the faces he makes sometimes. Well…
It's finally time for the part he can help with, so we get to it.
So we talk about instructions and of course safety, then we carefully add the rice to the skillet.
Add a bit of water, stir a few times, and viola! We have cheesy rice with smoked sausage & broccoli. A recipe created by our 10-year old.
Now guys, this isn't fancy or glamorous, but it was good. It's a quick one-skillet meal that's great for a hectic weeknight dinner. It's something the kids can help with. And it's a great way to get your family in the kitchen together.
Since October 15th is National Cook with Your Kids day, I think it's important to get in there and help the little ones learn some valuable life skills. If you want more creative ideas and some support from other families, check out the Ben's Beginners social hub. I'm behind it, not because I'm paid to be, but because I think every kid should know how to cook. I didn't when I went out on my own, and I suffered for it.
Also, since right now you can get $0.75 off Ready Rice at Walmart, there's no reason not to have the kids help out. It gives you a little help, but more importantly, it gives your kids a sense of involvement and accomplishment. That goes a long way in life.
Now for the recipe, but keep reading below for an added bonus!
Yield:

4 servings
Cheesy Rice with Smoked Sausage & Broccoli - Cook With Your Family
@UncleBens #BensBeginners #UncleBensPromo [ad]
Ingredients
1 pound smoked sausage, cut in bite sized pieces
1/2 cup frozen fajita vegetables or pepper stir fry mix
4 cups frozen broccoli florets
2 (8.5 ounce) packages UNCLE BEN'S® READY RICE® CREAMY FOUR CHEESE FLAVORED
1 Tablespoon oil, for frying
6 Tablespoons water
Salt and pepper to taste
Instructions
Heat oil in a large skillet over medium heat.
Cook pepper stir fry mix until onions are translucent. (About 2 minutes.)
Add broccoli and 2 Tablespoons water. Cook until just crisp-tender. (About 5 minutes.)
Add sausage pieces and cook, stirring often, until heated through.
Gently squeeze the sides of the rice pouches to break apart the rice, and pour contents into the skillet. Add 2 Tbsp. of water and heat.
Stir rice occasionally until heated thoroughly.
Season with salt and pepper to taste.
Nutrition Information:
Yield:
4
Serving Size:
1
Amount Per Serving:
Calories:

650
Total Fat:

49g
Saturated Fat:

17g
Trans Fat:

1g
Unsaturated Fat:

26g
Cholesterol:

97mg
Sodium:

1336mg
Carbohydrates:

28g
Fiber:

6g
Sugar:

6g
Protein:

25g
What I would have done differently.
Nothing. This is my son's recipe, and I think it was pretty freaking awesome.
Something Special
I think the Ben's Beginners program is pretty amazing. To make that even more amazing, they're running a contest that can net you money for your kid's school. This is their official quote:
Ben's Beginners began with a simple ambition – to get kids to cook. They are even giving back to schools with a chance to win a cafeteria makeover in a Ben's Beginners contest! Get the family into the kitchen and show them how fun cooking together can be.
So seriously. Enter. Schools are desperately in need of funding, and a $30,000.00 cafeteria makeover could change the lives of a lot of kids. And you might even get a little help with your groceries as well. (Up to $15,000.00 worth. That's a lot of groceries…)
Good Luck!