Is there really an more perfectly simple topping or dipping sauce than caramel? In its purest incarnation caramel is nothing more than sugar that has been heated until deeply browned, but the transformation is enough to bring out deep flavors and subtle overtones that simply can't be found in any other form of sugar. With the addition of a few simple flavorings this humble mix of melted sugar and water can take on sweet, savory or succulent flavors and it plays with each very well.
In this instance we were looking for a sweet caramel sauce for a few desserts. My wife found this recipe at Martha Stewart's website and we both thought it would be a perfect fit to some of the other flavors we were going into the mix, so we gave it a shot.
It's fabulous. Really. I can't say how fabulous. I'll admit that I upped the butter content over the version at Martha's site, but I prefer a very rich caramel. (I may have added a bit more bourbon than listed as well. OK, A tablespoon more… But this has a tendancy to cause the sauce to thicken a bit overmuch, so I don't reccomend it.)
If you're going to take the leap and try just once in your life and attempt to make your own caramel sauce, this is the one you should try! No really, go make this right now. I'll wait….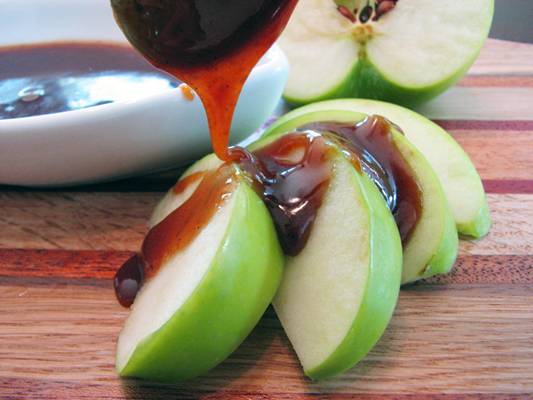 Good, isn't it?
Yield: 2 cups caramel sauce
Caramel Bourbon Vanilla Sauce Recipe
Cook Time: 30 minutes

Total Time: 30 minutes
Ingredients
2 cups granulated sugar
1/2 cup water
1 cup heavy cream
1 vanilla bean, split in half lengthwise
2 teaspoon fresh squeezed lemon juice
3 Tablespoon unsalted butter
1 Tablespoon Kentucky straight bourbon whiskey
Instructions
Combine sugar and 1/2 cup water in a 2 quart saucepan over medium heat. Cook mixture until dark amber in color (About 20 minutes). DO NOT STIR. Swirl the pan gently several times through cooking. If crystals form on the sides of the pan, brush the sides above the crystals gently with a basting brush dipped in water.
Reduce heat to low. Add cream slowly, stirring constantly with a long handled wooden spoon. Scrape vanilla seeds into pan and add pod. Add remaining ingredients and stir to combine.
Store covered tightly for up to 1 week in refrigerator. Bring to room temperature or warm over low heat (or for about a minute in the microwave) before serving.
Drizzle away and enjoy!
Nutrition Information:
Yield:
12
Serving Size:
1
Amount Per Serving: Calories: 224Total Fat: 10gSaturated Fat: 6gTrans Fat: 0gUnsaturated Fat: 3gCholesterol: 30mgSodium: 6mgCarbohydrates: 34gFiber: 0gSugar: 34gProtein: 1g


What I would have done differently had I thought of it at the time:
We didn't brush the sides of the pot as we worked because it was lacking from the original instructions. This rendered the sauce a bit grainy, but that didn't affect the flavor at all! This has got to be the ultimate in caramel sauces and it's one we'll make again.
Next time I may make a double batch and try salting the 2nd just to see if the combo of caramel and sea salt will enhance the flavor any. Salted caramel is all the rage after all.
Links to other recipes like this: