Appetizers should always be something familiar. Sure, you can (and should) jazz it up a bit, but whatever it is, it should be easily identifiable to your guests. Also important is that it should be something that isn't going to cause you a ton of stress on the day of your party. Combine those two ideas and you have the inspiration behind Candied Bacon Egg Salad on Crispy Wonton Spoons. This dish is my entry in the "Sliced" recipe contest hosted by Saucy Mamma Mustard.
The "sliced" competition is sort of a bloggers version of that show on the Food Network with a similar name, except that instead of only having 30 minutes, we get a few days notice of our secret ingredient. Trust me, in terms of a food blog, only having a few days to get something done, photographed written and edited make the 30 minute deadline on that TV show sound pretty luxurious!
The nice folks at Barhyte Specialty Foods provided us with a collection of three different varieties of Saucy Mama mustards to use for the competition. We have to use one of these mustards in each dish, plus the secret ingredient. For this round the secret ingredient was…
Wait For it…
Bacon!
But why just use bacon when you can use candied bacon?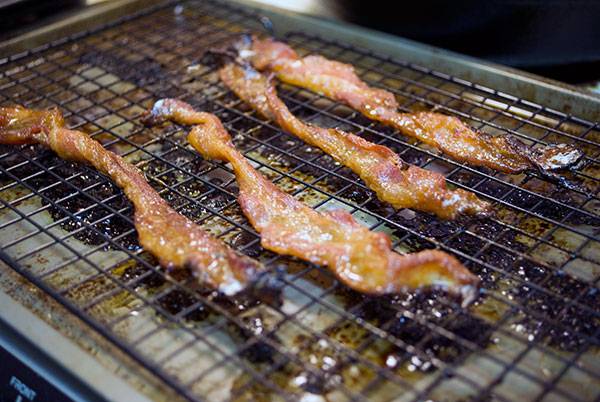 Candied bacon has mustard, so I could have just stopped there. But if you've been following along with us for any length of time you'll know we couldn't stop there. we needed a way to get that gorgeous bacon to you in a nice, safe and delicious manner. Originally I was going to use won ton cups, but on a whim i decided to see if I could use the same technique to turn the same idea into something a little more playful.
I started by tracing a ceramic Asian soup spoon's shape onto paper. Then I cut that shape out of 12 won ton wrappers while the bacon was cooking.
Place each one of the cut out shapes onto a ceramic or metal spoon. Brush with oil (Or bacon grease, which is what we used… Because it's a bacon competition.) Sprinkle with salt and bake at 350 for about 8 minutes. Wallah! you have a cute little edible spoon, all redolent in bacony goodness.
Of course, you can use a wonton cup or a filo cup if you don't want to go to this much trouble. Heck, you can serve this on crackers. As long as the delivery method is finger friendly, you're all set!
From there, just whip up a simple egg salad with some of that gorgeous candied bacon in it. Top with some green onions, a slice of hard boiled egg and another little bit of bacon. you're all good to go.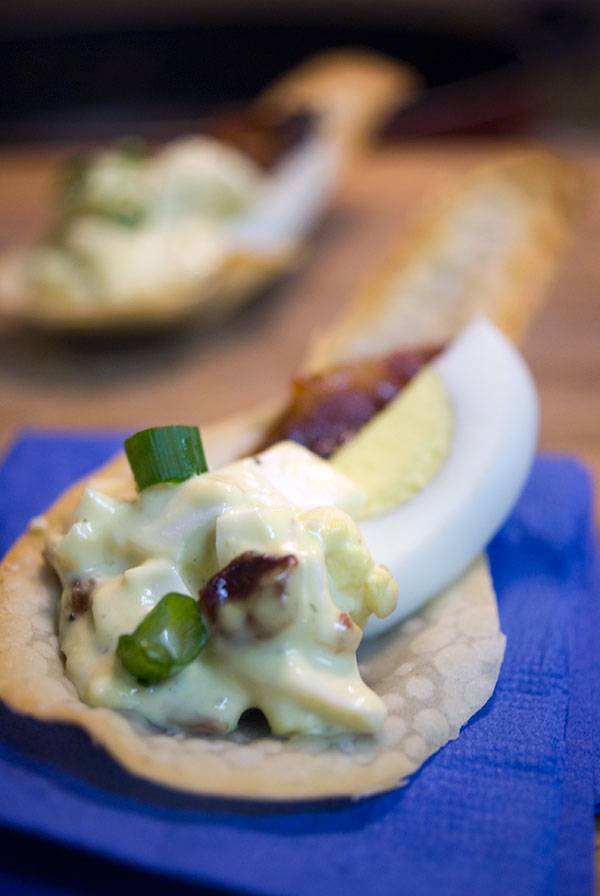 In case you're wondering, yes, it's a functional spoon. to fully demonstrate this, I present our resident hand model (Also known as my lovely wife) showing the usability of the finished wonton spoon.
Here's the best bit. All of the individual ingredients for this dish can be made up to two days in advance as long as they're stored separately in airtight containers. That leaves you with nothing to do but assemble them on the day of your party. That will save you a little stress, and that's a good thing
I also get to give away the same sample pack of mustards that I'm using for this competition! Check the details after the recipe. This is seriously good stuff, folks. you need to win this!

Yield: 12 servings
Candied Bacon Egg Salad on Crispy Wonton Spoons ~ A Contest And a #SaucyMama Giveaway
Prep Time: 30 minutes

Cook Time: 10 minutes

Total Time: 40 minutes

Candied Bacon Egg Salad on Crispy Won ton Spoons. A playful way to serve appetizers at your next party
Ingredients
For the Candied Bacon:
1/2 cup packed brown sugar
2 Tablespoons Sassy Mama Hatch Chili Mustard
6 strips bacon
For the Won ton Spoons:
12 won ton Wrappers, cut into spoon shapes
Bacon grease
Salt
For the Egg Salad:
5 hard boiled eggs, divided
2 green onions, chopped
2 Tablespoons mayonnaise (More or less. use the amount you like)
1 Tablespoon Saucy Mamma Dill Mustard
Salt and pepper to taste
Instructions
Candied Bacon:
Heat oven to 450 degrees. Mix mustard and brown sugar together in a large plastic bag. Drop bacon in and shake like crazy to coat bacon.
Place bacon on a cooling rack set on a baking sheet. Sprinkle any remaining mustard-sugar mixture onto the bacon.
Bake at 400 for 20 minutes, or until bacon is crisp.
Won-ton Spoons:
Reduce oven temp to 350.
Place Spoon shaped cut-outs onto ceramic or metal Asian Style soup spoons. (Do not use plastic or bamboo!) Brush with oil or bacon grease. sprinkle with salt and bake for 8 minutes, or until edges are golden. Remove from oven and allow to cool completely.
Egg Salad:
Shell all eggs and set 2 aside. Chop remaining three eggs finely. Chop 4 strips of the candied bacon finely.
In a medium bowl, combine eggs, bacon, green onions, mayonnaise, mustard, salt and pepper. Stir until just combined.
Assembly
Slice remaining two eggs in half lengthwise. Place flat side down and carefully cut each half into 4 long strips, leaving yolk intact. Cut remaining pieces of candied bacon into small pieces. Arrange one slice of egg and one slice of bacon at the top of each wonton spoon. (Or bowl, or whatever you're using.) Spoon a scant teaspoon of the egg salad into each spoon. Garnish with chopped green onion tops.
Share and enjoy!
Notes
If you don't want to deal with the wonton spoons, you're free to use wonton bowls, filo cups, crackers, toast or anything else yo're comfortable with. But something saltier is better here.
Nutrition Information:
Yield:
12
Serving Size:
1
Amount Per Serving: Calories: 133Total Fat: 7gSaturated Fat: 2gTrans Fat: 0gUnsaturated Fat: 4gCholesterol: 86mgSodium: 274mgCarbohydrates: 13gFiber: 0gSugar: 8gProtein: 6g


The Giveaway:
Because I think that Saucy Mama Mustard is fabulous and because I think you'll agree, I'm happy to announce that I'm allowed to give away the same set of three mustards that were provided to me for this contest. One lucky winner will receive a collection of amazing mustards. The set includes Saucy mama Hatch Chili Mustard, Saucy Mama Creamy Garlic Mustard and Saucy Mama Dill mustard. (The dill mustard was the inspiration for this entire dish, by the way. The second i smelled it I was craving deviled eggs, so I had to do something with eggs ASAP!)
The rules are simple: just leave a comment below with a valid email address and you'll have a chance to win the sample pack pictured below. (Sorry guys, Continental US Only.) There's no Pin It to win it or crazy retweet competition necessary. (Of course I'd appreciate pins and tweets, this is a great recipe! But you don't need to do that to win.) I'll announce the winner here and contact them by email to verify shipping information on June 20th 2013, so tell your friends, leave a comment and good luck!)
But wait. There's more! (Sorry, I've always wanted to say that.)
Just in case you're not the lucky winner, I've also been given the opportunity to give each and every one of you a coupon code for 25% off of any item in the Barhyte Specialty Foods online store. Just use coupon code JER25 at checkout and save a quarter on your purchase!
Take a sec, leave a comment and I really do hope you win. Here's a look at the prize pack, just in case you're not convinced you need it yet.
Yeah, I thought so. I'll see you in the comments!
NOTE: The giveaway has ended. The winner was commentator #7, Kirsten. Congrats! you've been notified by email and we're waiting to hear from you.