I originally posted this beer braised beef shank recipe in 2009 after attending the (now defunct) Foodbuzz Food Festival. I knew we'd be treated to great presentations, cool products, and wowed by amazing food served by exceptional chefs. I was right. There were tons of absolutely amazing foods to sample and most were far more than just good. Of all the dishes I tried though, there was one that just seemed like it wasn't… Finished.
There was just something about it that was missing. That perhaps the dish got rushed or under-seasoned. Perhaps there wasn't enough salt or pepper? For whatever reason, it just seemed that with a tiny tweak somewhere, this could have been the best meal of the day. That nagging feeling of what if is the reason this recipe exists.
I'm not saying that the original was bad. It wasn't. It was pretty darned good. If I'd sampled it in another venue or at a different time, I might have thought it was perfect. But if you're going to serve something to a group of 250 food bloggers in a room full of San Francisco's top talent, you'd better bring something that's going to stand level with the rest of the competition. This particular dish just didn't quite pull that off.
About a month after the event, I decided I'd put my spin on it. I found the original recipe in the massive assortment of swag that got sent home with the festival attendees and sat down to figure out where it had fallen short. I started by scrapping any brand specific ingredients, then got down to work.
I think it came out pretty well:
First off, the recipe called for polenta. As a Southern boy, I didn't have any. But I had grits. Grits are like polenta, right? (Actually, I like grits more than polenta.) The second challenge was to recreate a lot of prepackaged ingredients. Not much of an issue since we lived in California at the time. In the end, I think I nailed it.
Try it. I'm sure you'll agree with me.
Don't let the seemingly large list of ingredients scare you off. Basically all you have to do is build a pasta sauce in a braising liquid and let it thicken as it goes. You'll be amazed how quickly it all goes together and how absolutely powerful the flavors are. It's simply an awe-inspiring dish and one I recommend that you give a bit of time to while the weather is chill.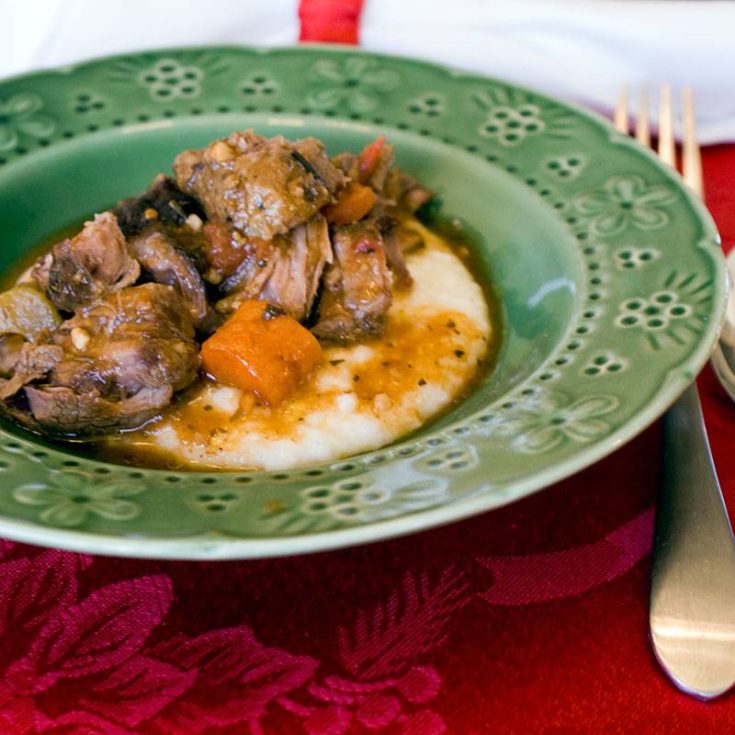 Yield: 8 servings
Beer Braised Beef Shank with Garlic Grits
Prep Time: 20 minutes

Cook Time: 4 hours

Total Time: 4 hours 20 minutes
Ingredients
For the Beef:
3 lbs. bone in beef shank
1 yellow onion, rough chopped
2 celery stalks, rough chopped
2 carrots, rough chopped
1 10.5 oz. can diced tomatoes, with juices
12 oz. beer, preferably amber
4 cloves garlic, minced
1/2 tsp dried basil
1/2 tsp dried oregano
2 tsp. Italian seasoning
1/2 tsp onion powder
1/2 tsp garlic powder
32 oz vegetable broth
1 tsp beef bullion
1 tbsp Worcestershire sauce
1 tbsp red wine vinegar
1/4 cup extra virgin olive oil
Salt and pepper to taste
2 sprigs rosemary.
For the Garlic Cheese Grits:
3 cups water
3/4 tsp salt
3/4 cup quick grits
2 tbsp butter
1 tbsp extra virgin olive oil
2 cloves garlic, minced
1/4 cup grated Parmesan cheese
Salt and pepper to taste.
Instructions
For the Beef:
Preheat oven to 375-degrees.
Heat olive oil in a large pan over medium high heat. Season beef shanks well on both sides with salt and pepper. Place meat in hot pan and brown well on both sides. Transfer beef to a roasting pan or deep baking dish. Add celery, carrots and onion to the roasting pan. Combine all other ingredients except rosemary in a large bowl and pour over beef and vegetables. Toss rosemary in roasting pan and cover well with foil.
Place in oven and cook for 3-4 hours, or until beef falls apart easily. Serve over Garlic Cheese Grits.
For the Garlic Cheese Grits:
Bring water and salt to a boil over high heat. Slowly stir in grits, reduce heat to low and cook, stirring frequently, for 3 to 5 minutes. Cover, remove from heat and let stand for 6 minutes.
Mix in butter, olive oil, garlic and cheese, stir to combine. (Add a tbsp. of water at a time if grits are too thick.)
Serve immediately, topped with beer braised beef.
Nutrition Information:
Yield:
8
Serving Size:
1
Amount Per Serving: Calories: 539Total Fat: 24gSaturated Fat: 8gTrans Fat: 0gUnsaturated Fat: 14gCholesterol: 144mgSodium: 932mgCarbohydrates: 16gFiber: 2gSugar: 7gProtein: 60g


What I would have done Differently had I thought of it at the time:
I think next time I'll cook the grits in chicken stock, rather than water for a bit richer flavor. Other than that, I wouldn't change a thing.
Links to other recipes like this: