Does the aroma of warm banana nut bread fill you with memories of home, happiness and lazy Sunday mornings? If not, then perhaps these muffins can help you to create those memories. Of course, there's no reason to wait for a Sunday to enjoy them, you can have these delectable little morsels any day of the week, you can make them ahead of time and just reheat them in the morning.
Banana muffins are made from the same batter as banana bread, but with a slightly shorter baking time. The result is a moist, flaky muffin perfect for a pat of butter, a bit of jam or just by itself as a quick treat. If you are a fan of bananas, you'll love these muffins.
Banana bread and other quick bread recipes are a true American original, most likely first made in the 1800's by American housewives experimenting with pearlash, the predecessor to baking powder. Quick breads became popular in the 1930's with the widespread acceptance of baking powder and enjoyed a resurgence in the 1960's during the growing American home baking trend.
Esteemed history aside, banana muffins are popular today for the same reasons they were popular in the past; They're quick, easy to make and taste great. As a bonus, they store well in a sealed container or plastic bag in the fridge for up to a week, so a batch of muffins can be ready to go when you are. All that's needed is about 20 seconds in any standard microwave to reheat up to 3 muffins. (35-40 seconds for 4 or 5.)
So why not revitalize your mornings (or after school snacks) with an American classic that is sure to put a smile on everyone's face? with these little goodies at the ready, it will take longer to brew your morning coffee or tea than it will to have breakfast on the table.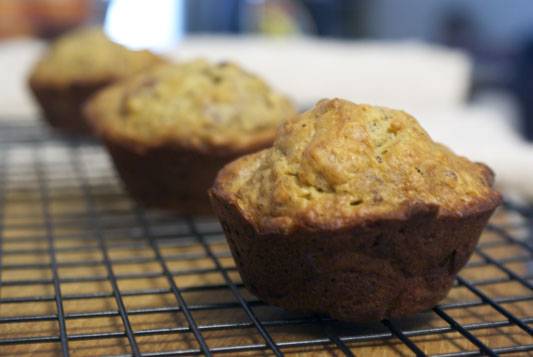 Yield: 12 muffins
Banana Nut Muffins
Prep Time: 5 minutes

Cook Time: 40 minutes

Total Time: 45 minutes
Ingredients
1 stick unsalted butter, softened
2 eggs
3-5 large very ripe or slightly overripe bananas
1 tsp salt
2 tsp baking powder
1/2 tsp baking soda
2/3 cup of sugar
1-3/4 cup flour
1-1/2 cup chopped pecans, walnuts or dried fruit (optional)
Instructions
Preheat oven to 350° F.
Combine butter, eggs and bananas. Add salt, baking powder, baking soda, and sugar. Mix well until all lumps are removed. Add flour. Mix well. Add nuts and stir to combine.
Spoon batter into greased muffin tin until each cup is 3/4 full. Bake at 350°F for 35- 40 minutes.
Cool on baking rack until muffins are room temperature (approximately 30 minutes.)
Culinary tradition: USA (Traditional)
Share and Enjoy!
Nutrition Information:
Yield:
12
Serving Size:
1
Amount Per Serving: Calories: 724Total Fat: 23gSaturated Fat: 6gTrans Fat: 0gUnsaturated Fat: 15gCholesterol: 51mgSodium: 344mgCarbohydrates: 114gFiber: 6gSugar: 16gProtein: 16g


What I would have done differently had I thought of it at the time:
This recipe screams for alterations, and we've made many of them over the years. If you don't like pecans, use something else, or just leave them out. Love chocolate with your bananas? Add some, we're not here to judge! The additions are only as varied as your tastes or preferences, so feel free to play around.
Links to other recipes like this: