If you're looking for something quick, packed with flavor and decidedly different from what you're used to, I may have found the perfect recipe for you. While I've done beef salads before, I've never had anything quite as interesting or subtle as this posted here and I think it deserves a try, even if the main ingredient has you doing a double take.
This dish combines a subtlety of flavors and textures that could only be enhanced by additions, rather than having them overwhelm or overpower what's already going on. Toss in a little diced Serrano peppers, some sesame seeds or a few crispy fried won ton strings and you've just added to the enjoyment. This is a salad at its most basic. Perfect, sublime and just hearty enough to keep this dedicated omnivore quite happy from brunch to dinner with no complaints whatsoever.
As I've mentioned before. Beef heart is not an overpowering ingredient. While the flavor is strong, it brings out a much deeper beefy note than most cuts of "regular" beef, almost a condensed beef flavor. This makes it perfect for marinading, because the marinade does not end up being the star of the show, the heart still takes that place easily, even after 24 to 48 hours enrobed in other very rich flavors.
Give it a try. you'll be glad you did!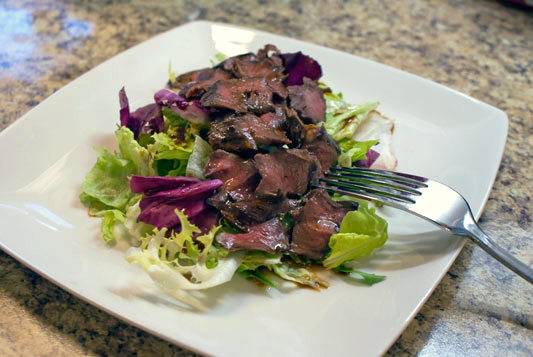 Yield: 6 servings
Asian Marinated Grilled Beef Heart Salad
Marination Time: 1 day

Prep Time: 10 minutes

Cook Time: 5 minutes

Total Time: 1 day 15 minutes
Ingredients
For the beef heart:
1 pound beef heart, sliced
1/4 cup light soy sauce
1/4 cup Seasoned Garlic rice vinegar
2 scallions, chopped
2 cloves garlic, minced
2 Tbsp Dark toasted sesame oil
1/8 tsp ground ginger
Salt and pepper to taste
For the salad:
Assorted salad greens of your choice
1/4 cup rice wine vinegar or white wine vinegar
4 Tbsp light soy sauce.
1 tsp sesame oil
1 tsp plum sauce
1 scallion, chopped
1 clove garlic, minced
Salt and pepper to taste
Instructions
Place all marinade ingredients in a large bowl and whisk to combine. Place beef heart in a zip-top storage bag and pour marinade over. Seal bag, squeezing out as much air as possible. Massage marinade into meat and refrigerate, turning occasionally for 24 to 48 hours.
Remove beef hear from marinade and pat dry with paper towels. Grill over high heat (you can use a grill pan if desired) 2 minutes per side, or until just medium rare. Cover loosely with foil and set aside to rest for at least 5 minutes.
Add all dressing ingredients to a large bowl and whisk thoroughly to combine. Toss greens in Dressing and place approximately 1 cup on each plate for service. Slice beef heart as thinly as possible and place over greens. Drizzle with sesame oil and serve immediately
Share and Enjoy!
Nutrition Information:
Yield:
6
Serving Size:
1
Amount Per Serving: Calories: 205Total Fat: 9gSaturated Fat: 2gTrans Fat: 0gUnsaturated Fat: 6gCholesterol: 160mgSodium: 1609mgCarbohydrates: 5gFiber: 1gSugar: 0gProtein: 24g


What I would have done differently had I thought of it at the time:
There are a thousand little additions that would move this salad to a new level. I'll leave these additions to you. I'm kind of fond of the simplicity in this dish. It's completely satisfying as it is, whether served as a main course or as a starter.
Links to other recipes like this: